PROPRIETARY AI TECH ALLOWS SF TO BUILD SUPPLY BACKWARDS FROM CONSUMER DEMAND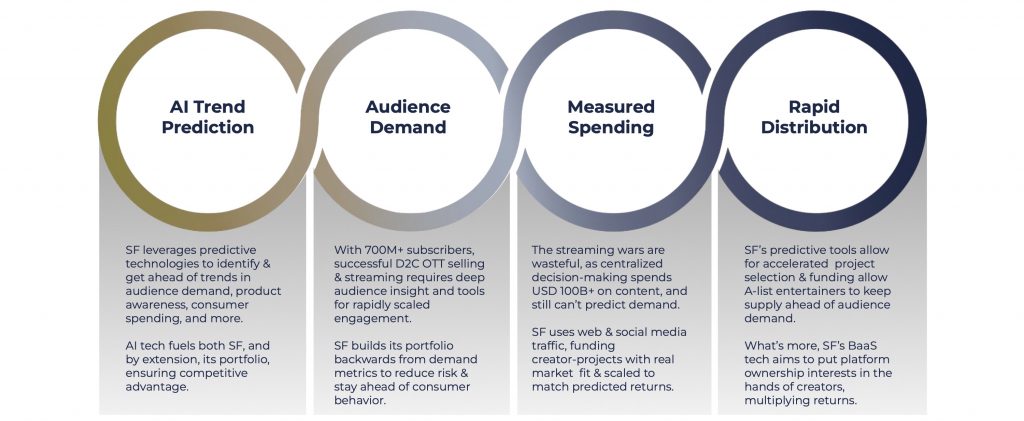 OUR WEB3.0 BLOCKCHAIN-AS-A-SERVICE (BaaS) SOLUTION ACCELERATES PORTFOLIO GROWTH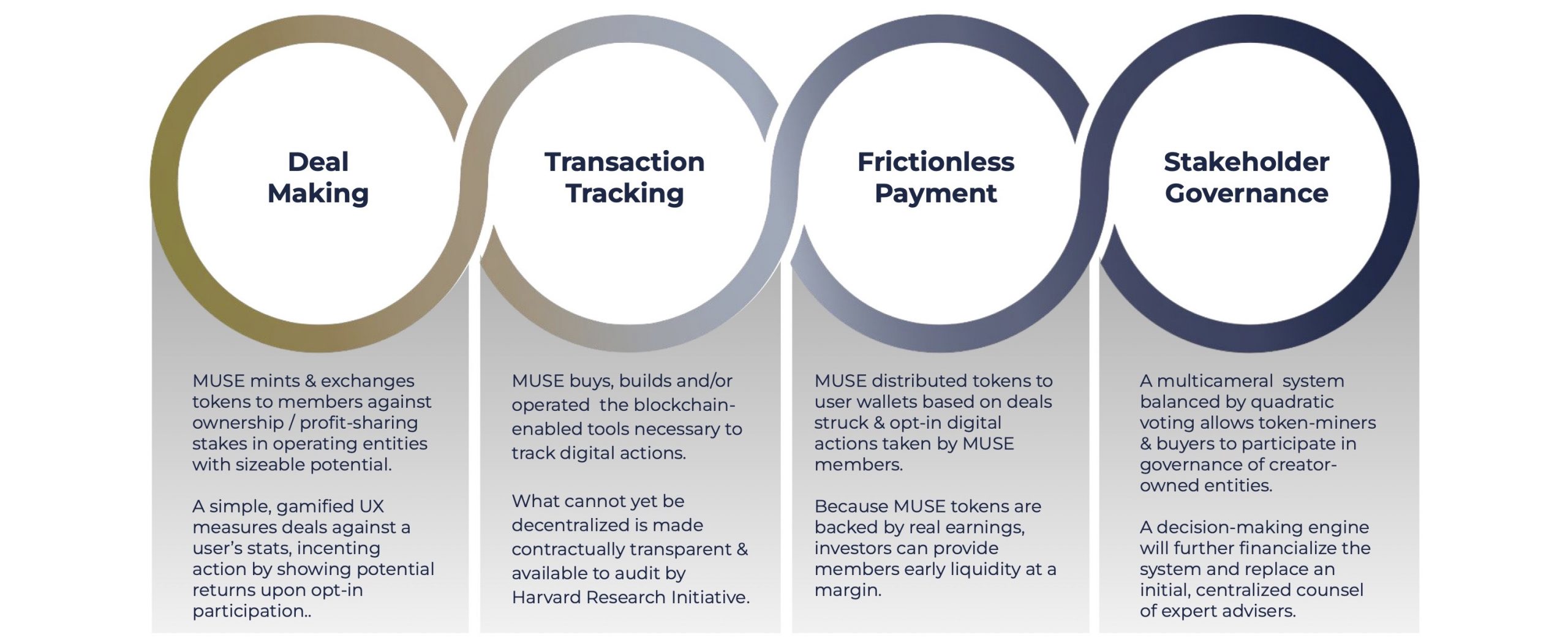 SF's Proprietary AI Platform as a Service has already helped some of the world's leading corporations harness the power of data and create customer aligned products and services, including: GE Power, GE Digital, Abbott, AC Nielsen, Stuart Weitzman (Coach), Dow, IBM, DARPA & multiple Hedge Funds.
Our Partners
With a purposeful mix of proven Entertainment & Media Executives, VC & hedge asset Managers experienced in Quantamental driven investment strategies and

$700m media assets under management;

Silicon Valley Technologists from diverse backgrounds with expertise in AI/ML, Streaming, AR/VR & D2C E-Commerce; and

Co-Production Partners & Advisors that are Award Winners- Oscar, Tony, Emmy, Grammy, with > $10B Total Gross Box Office Revenues; 

SF leverages data from multiple proprietary, on line & media sources to create a factor-based project screening system set that will include ratings

to invest in and otherwise support creator projects faster, better & cheaper.
Our Process
With connectivity to some of the biggest creators in the world, as well as many of the the greatest minds in platform building, content production, blockchain, AI / data science, economics and more; and

With AI analytics working in concert with

MUSE

, a web3.0 Blockchain-as-a-Service (BaaS) solution, to empower

digital platforms to turn creators into co-owners, 

SF uses portfolio products to supercharge mass adoption of portfolio platforms, supercharging Creator market initiatives while maximizing fund returns.
The SPV team will focus on sourcing projects which meet the EQ generated audience demand indicators of new female Creators, A-List Artists & Influencers and several of the top film and theater studios/producers.
Proven Producers & Co-Production Syndicate Partnerships

Young female creators with important things to say

Proven VC & Hedge Asset Managers experienced in Quantamental driven investment strategies
Silicon Valley Technologists from diverse backgrounds with expertise in AI/ML & Web 3.0

Collective production track record of over USD 10bn in Box Office and licensing revenues and a blended IRR return to investors of 67%

Leadership Team is a purposeful mix of both young and experienced female executives